Black Friday can be a challenge for retailers. Especially if you have to strategically plan marketing, logistics and finances. In the following article, we have summarized for you what you can pay particular attention to here and which approaches will make your Black Friday strategy a success.
Table of contents:
The beginning of Black Friday in Germany
In the U.S., the Friday after Thanksgiving has been called "Black Friday" since 1966 and at that time mainly took place in stationary retail. In the meantime, there are equally many discounts online. Especially the massive discounts are in the foreground on this day and are used by Americans to do their Christmas shopping. Therefore, Black Friday unofficially marks the start of the Christmas season in retail. In 2006, Apple was the first company to offer discount promotions on "Black Friday" in Germany as well. However, Apple did not advertise these under the name Black Friday at that time. It was not until 2013 that Black Friday also took place on a larger scale in Germany, and retailers' sales quickly developed positively. Unlike in the USA, Black Friday in Germany is mainly focused on online retail.
In order for you to be perfectly prepared for the upcoming Black Friday, we have listed the 10 most important things that you should pay attention to in order to avoid a Black Friday disaster in the following article.
Tip 1: Identify your most popular products
You probably know which of your products are the most popular. However, take a critical look at the sales figures of your products in the last months. Make a list of all your products and see which ones have sold the most on average over the last few months. This will give you a first overview of which products will most likely be the most sought-after on Black Friday. This way, you can be prepared for increased demand for these products.
Tip 2: Think about a supply limitation
Consider discounting your entire assortment on Black Friday or giving a price cut only on certain products. By giving discounts on selected products, you can increase your profit. In the best case, you will choose the most popular products already identified for this purpose. To do this, you need to be especially careful not to give discounts too generously, but large enough to give shoppers an incentive to buy. Be sure to calculate your discounts carefully so as not to reduce your profit margin too much.
Tip 3: Consider volume discounts
The more, the better? When selling your products, definitely! If you sell products that your clientele can buy in stock, it may make sense to offer a volume discount. You can implement volume discounts in a number of ways. For one, it is possible to offer a quantity discount on purchases over a certain amount.
On the other hand, it may make sense to estimate a basic discount and increase the discount from the purchase of a certain quantity of the product. For this purpose, you should calculate thoroughly in advance from which quantity the increase of the discount is worthwhile. Moreover, quantity discounts increase the chance of customer loyalty, because the more products they buy from you, the less they buy from your competitors. At the same time, this increases the chance that customers will make their next purchase from you again. The positive effect is not only on your profit, but also on your fulfillment. Since not all products have to be packed and shipped individually, you save on shipping costs, packaging material and possibly also on personnel costs. You can also apply a volume discount in industries where you sell products that are not purchased in stock, such as fashion or beauty. To do this, you determine how many products your customers buy from you on average or put in your shopping cart in order to calculate the optimal quantity discount.
Tip 4: Use Black Friday to attract new customers
You know the drill. Potential customers cancel the purchase process before they have completed the purchase. Especially Black Friday, when you already plan and calculate the price reduction and consumers are looking for deals more than usual, is a good time to use retargeting campaigns to convert these potential customers into regular customers. Because you already know that there is interest, now you can get them to try your product and convince you.
Tip 5: Use Black Friday consciously to increase the popularity of your products
Since you have already prepared for Black Friday by identifying your best-selling products, you can build on this to determine which products are most often bought together. Especially on Black Friday, when the propensity to buy is already higher than usual, you can either offer bundles or engage in so-called "cross-selling". With cross-selling, the products that are often bought together with the product they are about to buy are suggested to the customers at the checkout. This way you can increase the turnover per customer and at the same time send several products at once.
Tip 6: Get inspired by the competition
Take a look at how your competitors are promoting Black Friday, what offers you are offering and how much of a discount they are offering. This way you can assess if your discounts are reasonable or if you may have even been too generous with your discount calculation. The easiest way to keep an eye on your competition is to sign up for their newsletter and visit their website every now and then. In the end, however, make sure you only offer discounts that really make business sense for your company.
Tip 7: Inform your fulfillment service provider about the increased demand
Once you have finalized your planning and decided how to proceed with the discount campaign, you should inform your fulfillment service provider about an expected increase in demand for these products. This way, your fulfillment service provider can prepare accordingly and plan for corresponding capacities on these days.
Tip 8: Check if your website can withstand the traffic increase
To prevent your website from crashing due to too many hits, you should test beforehand whether your online shop can withstand the increased traffic. To do this, you can test the server load capacity of your online shop with various tools. Some shop systems also offer their own speed reports in which you can check the speed of your most visited pages. Since this is a planned increase in traffic, you can prepare your online shop accordingly. Of course, only if it turns out during the test that the traffic increase will lead to an overload of the server. In this case, it is a good idea to User Experience review and, if necessary, improve.
Tip 9: Observe legal requirements
Even on Black Friday, there are some regulations that retailers must adhere to. Of course, your goal in preparing for Black Friday is to have the optimal amount of products in stock. But there is also a legal requirement for this. The Berlin Regional Court has ruled that retailers are obligated to ensure that they have enough merchandise in stock at least in the first quarter of the offer period to meet customer demand (Urt. v. 01.03.2012, Az. 91 O 27/11). Furthermore, as soon as a product is sold out, you must mark this and make it impossible to order the product. This means you may no longer advertise with this item. This was decided by the Hamburg Regional Court and confirmed by the Hamm Higher Regional Court (judgment of September 11, 2009; ref. 312 O 637/08; judgment of August 11, 2015, 4 U 69/15).
It is also important to know that you should be careful when advertising with the term "Black Friday". In Germany, "Black Friday" is a registered trademark (registration number 30 2013 057 574, registered on Dec. 20, 2013, for Super Union Holdings Ltd. of Hong Kong for various retail services). In addition, the German licensee is Black Friday GmbH, which is based in Munich. It is true that a request for cancellation was filed against Black Friday GmbH, which also produced a small success for retailers. However, the final cancellation could not be obtained yet. Therefore, to be on the safe side, for the time being you should only advertise from the electronics sector with the term "Black Friday" in 2022.
Tip 10: Use Black Friday to prepare for the holiday season
Since Christmas and Black Friday have a lot in common in terms of preparation and planning, you can also use Black Friday as a test run for the Christmas season. Document your steps and evaluate whether you were optimally prepared for the Black Friday rush or whether there is still room for improvement for the next shopping-intensive days. Above all, evaluate the extent to which the strategic planning of the discount campaign brought with it advantages in terms of storage and profit. Finally, also reflect on whether Black Friday planning made it easier for you to implement your marketing strategy.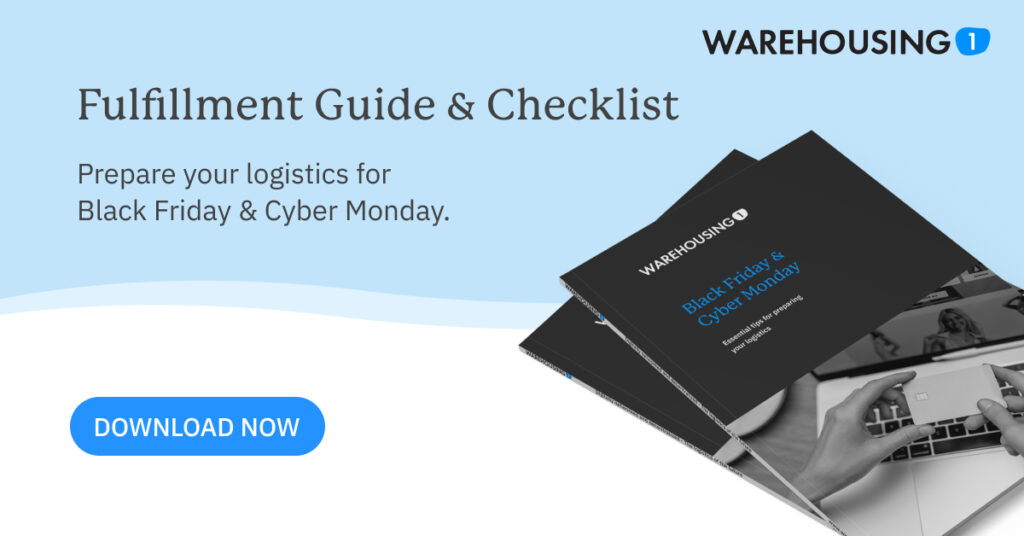 Conclusion
Preparation and planning is everything. Think carefully about which strategy makes sense for your Black Friday and calculate accordingly. Above all, keep an eye on your competitors, get inspiration and make comparisons. Think about suitable marketing measures and prepare your online store for traffic increases. In all of this, however, make sure that it also has a positive effect on the economic success of your company in the end.
You can find more information about "Black Friday" in our article "Black Friday and Cyber Monday: 5 tips for more success"
Warehousing1 is happy to support you in your Black Friday preparation! Through our large network of over 1000 locations, we offer virtually unlimited scalability and can suggest the perfect fulfillment and warehousing solution for you and your business. Make a free appointment today for your personal initial consultation.