Shopify is one of the most used systems for creating online stores worldwide. The system itself is not only comparatively cheap and easy to use, but also offers users many other advantages. One of these advantages is the Shopify App Store. In this app store, online shop operators can find everything they need to build a solid online store in the form of so-called Shopify apps. However, the Shopify App Store can seem confusing and overwhelming for e-commerce newbies at the beginning. That's why, in this post, we'll introduce you to what we think are five of the best Shopify apps to help your online store grow. Best of all, many of the apps are free to start with, so Shopify retailers who are at the beginning of their ecommerce careers can benefit, too.
Table of contents:
Shopify apps: what is it and what should I consider?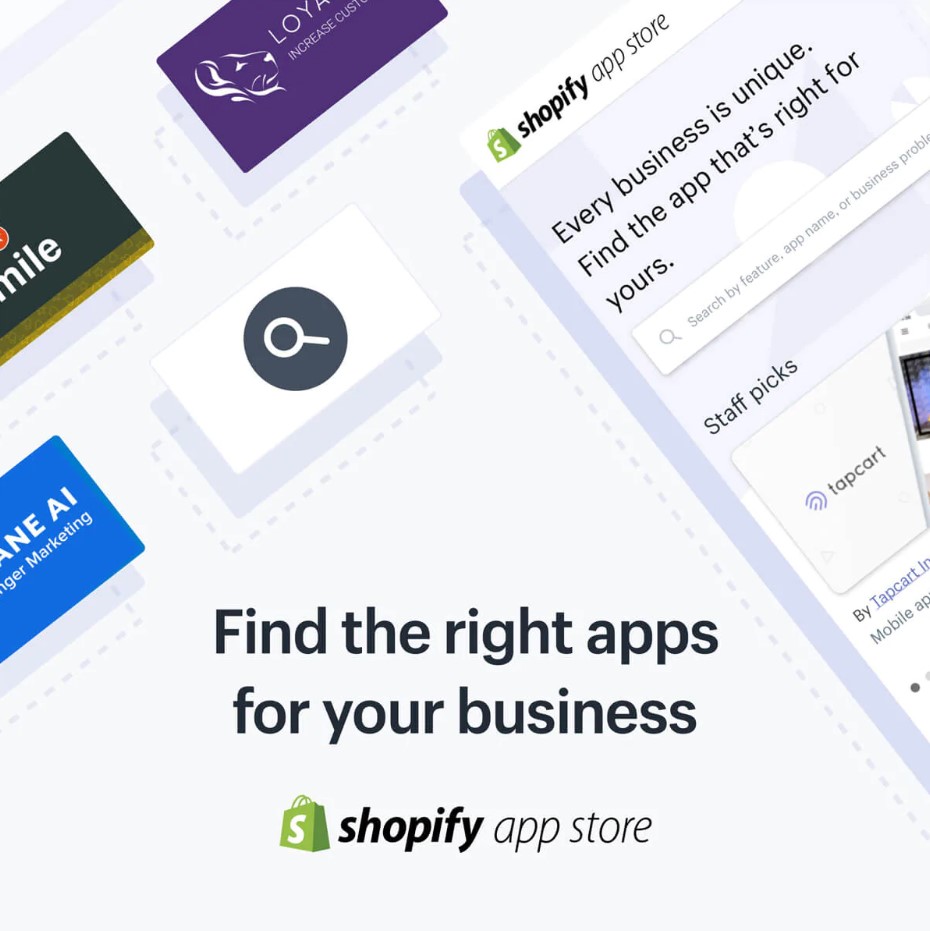 Shopify offers operators of online stores a variety of options for adapting the store to their own needs and those of the individual business model. Shopify apps are applications and plugins that extend the online store with the desired functions. This includes, for example, apps for automating marketing measures or simplifying accounting or stock management. However, store operators should note that not every application makes sense for every business model. This also applies to the Shopify apps that we present in this article. Pay attention to which apps offer you real added value and support your business model best. At the same time, don't lose sight of the financial factor. While many of the Shopify apps are free or have very moderate prices at the beginning, they become more expensive with higher volume. Therefore, keep an eye on your ongoing costs for the extensions and choose Shopify apps that best fit your product selection, target audience, and strategic goals.
The best Shopify app for shipping: Sendcloud
In e-commerce, processing orders, preparing for shipping and all related processes are among the most time-consuming and cost-intensive processes. At the same time, these processes can create vulnerabilities in the system that can lead to complications. Sendcloud provides a remedy for this. With the help of Sendcloud, shipping, picking and packing processes can be simplified. Sendcloud offers the option of connecting various shipping partners, sending tracking emails automatically and also supports returns management. The Shopify app is considered a real all-rounder for the entire shipping process and actively takes work off your hands. For smaller online stores with up to 50 orders per month, the app is even free of charge, and even for higher order volumes, the prices for using the app are very moderate. Thus, Sendcloud clearly belongs to the list of the best Shopify apps and should be considered by every store owner.
The Best Shopify app for inventory management: Realtime Stock Sync & Bundling
The "Realtime Stock Sync & Bundling" app was developed as a multichannel inventory management tool. The Shopify app serves online retailers to keep track of their entire inventory across multiple sales channels. To make this possible, Realtime Stock Sync & Bundling automatically retrieves order data from connected sales channels, centralizing the entire flow of goods into a single dashboard. There is integration to sales channels such as Shopify's own store, Amazon, eBay, Etsy and many other online marketplaces. Furthermore, the app offers an option to create product bundles. This is the combination of several goods, which are combined into a product bundle and then sold at a total price. This is a popular strategy for cross-selling, especially during sales or for special promotions. Realtime Stock Sync & Bundling is overall an excellent all-in-one stock management solution for online retailers. The Shopify app is also priced quite attractively, offering an Essential plan for smaller online stores for only $35 USD or about €35 per month.
The best Shopify sales app: SALES ROCKET
SALES ROCKET is one of the best Shopify all-in-one apps when it comes to driving sales, bundling 40+ marketing & sales features together in a single app. These include on-site features like a stock countdown, animated add-to-cart and checkout buttons, product reactions or countdown timers. The application thus offers online store owners and operators a wide range of options for actively boosting sales figures in their online store. In addition to the actual product, there is also extensive customer support, which assists with any complications. SALES ROCKET is an extremely comprehensive app, which as an all-in-one solution makes the installation of many other apps unnecessary. On the one hand, this has the advantage of saving costs since you only use one provider. On the other hand, this can also have a positive effect on the loading time of a website, as installing too many apps can slow down a Shopify store. SALES ROCKET is definitely one of the most exciting apps when it comes to giving the sales processes on your own website a boost. Besides the extensive features, the app also offers a very moderate pricing model. The app is available for Shopify stores with the Basic Pricing Plan for as little as 9.99 USD or 10.00 € per month.
The best Shopify app for order processing: WISO MeinBüro
WISO MeinBüro is an all-in-one office software for self-employed people and companies of all sizes and industries. With WISO MeinBüro, online merchants can write & issue invoices, process payments, handle accounting and do their taxes - all legally compliant and tax office compliant. Thanks to the Shopify integration, WISO MeinBüro offers a comprehensive overall solution for all the above processes. In addition, the software can also be connected to physical points of sale, which greatly reduces the additional work for merchants with their own stores. At the same time, the software acts as a kind of inventory management system. With the help of live tracking, inventory can be perfectly tracked and controlled at the physical POS and in the online store, without the need for additional software. Likewise, retailers can manage their articles and suppliers centrally via the software. WISO MeinBüro is a real all-rounder and certainly forms a good basis for many online businesses. For small online stores, the software including store integration is also available for only 4.20 € or USD per month, making it a real bargain.
The best Shopify app for basic SEO: BOOSTER SEO & IMAGE OPTIMIZER
In 2022, just under 22% of all product searches will begin on Google. This means that if you cannot be found on Google, you will miss out on almost ⅕ of your potential buyers. Good findability within search engines is therefore of elementary importance. The all-in-one SEO Shopify app BOOSTER SEO & IMAGE OPTIMIZER offers a good introduction to search engine optimization. The app includes various functions that make it much easier for online retailers to get started with search engine optimization. These include alt text optimization and fully automated image space reduction, meta data creation support and some other exciting features like weekly reporting or broken link identification. Experienced search engine optimizers will probably miss a few features with this Shopify app, but it provides a very good basis for entering the world of search engine optimization. The app is even free of charge in the basic tariff with somewhat reduced features.
Conclusion
There are a variety of strategies to optimize your own Shopify online store and generate more sales. And for each of these strategies there is a repertoire of suitable Shopify apps. The apps and features we have presented are a very good basis for most online stores and can be very useful for many strategies. The majority of these apps also offer an attractive pricing model. This should be particularly pleasing to newcomers to e-commerce. However, strategies and associated needs can differ so much that a universal ranking is almost impossible here. Which is really the best Shopify app for one's own store must therefore always be weighed up for oneself. However, there is guaranteed to be a suitable setup for every Shopify store.
We at Warehousing1 are also working on an all-round solution for your e-commerce logistics. With Warehousing1+, we map many of the features mentioned in this article. These include tracking from goods receipt to goods issue, tracking of current stock levels, returns management or the processing status of orders. All fully automated and directly connected to your logistics site. Feel free to contact us if you would like to learn more about WH1+. When it comes to your store logistics, we at Warehousing1 have the right solution ready. Just find a fulfillment provider with a few clicks, connect your store system and off you go. You want to know more? Arrange a no-obligation initial consultation with our customer consultants - all real logistics experts who can help you with the perfect setup for your store.