The logistics of your online store and the associated challenges can be overwhelming, especially in the beginning. To help you keep an overview and quickly get a clear idea of the logistics requirements of your online store, we have summarized the five most important steps for setting up your e-commerce logistics for you in the following article. Your logistics must function optimally, because if it doesn't, it will have a negative impact on your customers' satisfaction!
Table of contents:
What is actually part of the logistics of an online store?
Logistics is made up of various sub-areas: Procurement logistics, production logistics, warehouse logistics, distribution or sales logistics and disposal logistics. In the individual subareas, the use of materials, personnel, operating resources and energy is planned, controlled, monitored and executed.
Generally speaking, the goal in each sub-sector is to make the right products available in the optimal quantity, in the optimal condition, at the optimal time, and as economically as possible in the right place.
In this article, however, we will focus only on two specific areas of logistics that are particularly relevant in e-commerce: distribution logistics and warehouse logistics. Distribution logistics deals with how the goods get to the customer. Warehouse logistics includes goods receiving, professional storage, picking and shipping.
Warehouse logistics and distribution logistics at a glance
The goal of distribution logistics is basically to transport the goods to the end consumer as efficiently and quickly as possible while keeping the costs for the company as low as possible.
Distribution logistics is the link between production logistics and customer demand. The tasks are divided into strategic, tactical and operational tasks. The strategic tasks include selecting the location of warehouses and creating cost-effective distribution networks. The tactical tasks include, for example, determining a service level, deciding on in-house or external transport and defining minimum purchase quantities. Ultimately, operational tasks include route planning, order processing, picking, packing and shipping.
The goal of warehouse logistics is the optimal use of storage space. Online shop operators must define systems for storage, picking and for transporting goods from goods receipt to goods issue.
Especially when the online store's customer base is constantly growing, storage and fulfillment can quickly become confusing and overwhelming. That's why we explain here the five most important steps that retailers should urgently consider.
Step 1: Evaluate whether an external service provider is necessary
Do you have the resources to handle warehouse logistics and fulfillment in-house, or should both be outsourced? The faster the company grows, the more time, energy and money must be invested in training employees, expanding the warehouse and working out processes. In addition, an in-house warehouse involves high investment and fixed costs and offers only limited scalability. External service providers, on the other hand, offer greater scalability. Logistics networks even offer virtually unlimited capacities. However, retailers must pay attention to contract terms and high setup fees with external providers in order to remain flexible. Check whether it is worthwhile in the long term to handle fulfillment yourself in terms of cost and time, or whether it would save costs to outsource fulfillment. Warehousing and fulfillment should not distract you from your core business.
Step 2: Establish the right data interfaces
To ensure a smooth connection between the online store and warehouse logistics, you should make sure that all systems important for the processes can communicate with each other. This is the only way you can have data transparency about your own processes and share significant information about the fulfillment process with your customers. The crucial systems include enterprise resource planning systems, store systems (e.g. Shopify or Woocommerce) and warehouse management systems (WMS). The most important connection for online stores is the one between store system and WMS. 
To do this, you should check whether a connector for the WMS is integrated in your store system. If there is a connector to your WMS, you only have to activate it and do not need any further downloads and installations. In case you have outsourced fulfillment or changed your partner, ask your service provider if a store connection is included in the services. This can save merchants time on invoicing, quoting and order creation. It also simplifies data maintenance since they are in one system and enables transparency through real-time evaluations.
Step 3: Choose the right packing and shipping method
You should be sure to ship goods in accordance with regulations and ensure that the shipping carton can withstand the delivery conditions. This is especially important for goods that require special shipping conditions, such as hazardous materials. At the same time, you should also pay attention to the material used. For example, make sure the packaging is sustainable. Today, environmentally friendly packaging is a requirement for many customers. To ensure that suppliers leave a lasting impression on customers, it is also worth investing time and energy in designing a branded shipping carton.
Customers are increasingly demanding when it comes to delivery options. Therefore, make sure to offer different shipping options such as express shipping, same day delivery or standard shipping. You should also be critical in your choice of shipping service provider so as not to compromise on quality or service.
Step 4: Define the process for returns management
It happens again and again that customers, for example in the fashion industry, want to return purchased products due to the wrong size or poor quality. First of all, you must make a return possible in principle - this is stipulated by german law. The statutory right of withdrawal of 14 days according to § 312 Abs. 1 i.V.m. § 355 BGB, in which customers can return purchased goods without giving reasons, applies to distance contracts, i.e. only for goods purchased online. To do this, the customer must only expressly object to the purchase, by e-mail or taking into account the return conditions previously set by the retailer. Different rules apply to stationary retail. This applies not only in Germany, but also in other countries. Since the right of withdrawal varies from country to country, you should inform yourself in advance about the legal situation when shipping internationally. A free return is optimal for customer satisfaction, since the expectations of customers are high here as well. Also pay attention to what terms your competitors offer. It's best to exceed market standards here.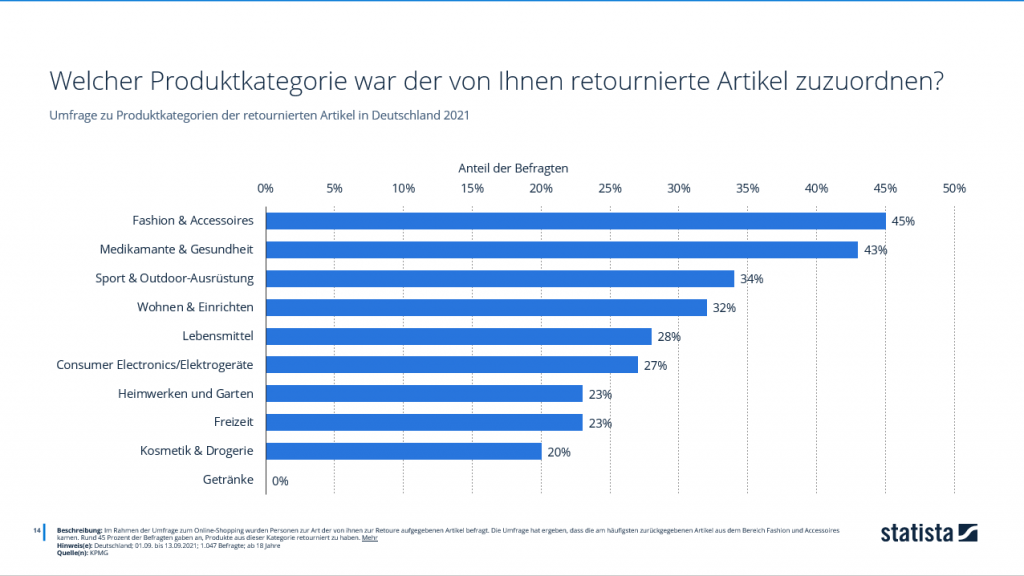 Step 5: Avoid stock-outs
On the one hand, stock-outs mean that sales transactions cannot be completed by the customer. On the other hand, customers may order the product from a competitor as a result. This can result in customers switching product suppliers in the long term (loss of demand) and you losing revenue as a result.
To reduce or avoid stock-outs, you can create demand forecasts over a short period of time so that you can plan ahead. In doing so, you must take into account particularly demand-intensive phases such as Christmas and Black Friday and allow for an estimated margin of error.
Always keep an eye on your inventory. This is easiest for retailers if there is a proper connection between the store system and the WMS. Merchants can then retrieve inventory data in real time and see which goods are about to run out. Many systems also work with notifications when certain products are running low. For this reason, you need to constantly check the reorder point. This determines the minimum stock level that the company can hold. In addition, retailers should always calculate a safety stock level so that they can quickly compensate for fluctuations in demand and at the same time not overfill the warehouse.
Conclusion
Now you should have a clear overview of the steps you should follow when setting up the logistics of your online store, in order to implement them as efficiently as possible for you and to ensure customer satisfaction. It is important to familiarize yourself sufficiently with these issues and the needs of your online store, suitable for the industry. Try to make your decisions as future-oriented and sustainable as possible to avoid fluctuations and frequent changes. The better your logistics is organized, the more positive effect it will have on your customers' satisfaction.
Would you like to find out more about this topic? Feel free to read our article "Challenges for high-performance e-commerce logistics".
Are you looking for a service provider who can take over the e-commerce fulfillment for your online store cost-effectively and reliably? Feel free to make an appointment with our team at any time and let us advise you!