A turbulent year is slowly drawing to a close. Whether political, economic or social, the developments that have not left online retailing untouched are manifold. Companies in e-commerce have thus had to demonstrate particularly strong flexibility and adaptability over the past 12 months.
As the end of the year approaches, however, it is now time to venture an outlook for the new year. What e-commerce trends can we expect in 2023? Where is this dynamic industry heading? We'll get to the bottom of that in this blog article.
We hope you enjoy reading!
Table of contents:
E-commerce Trend #1: Sustainability
Sustainability is playing an increasingly relevant role for e-commerce customers. The Millennial generation in particular is paying increasing attention to sustainability factors in their consumer behavior, both in terms of products and service. A study by PricewaterhouseCoopers, for example, found that a good two-thirds of the millennials surveyed pay attention to sustainability aspects when shopping. This includes, for example, purchasing products with environmentally friendly or less packaging (56% of mentions) or shopping at companies that are committed to environmental protection (47% of mentions). In view of these figures, a clear picture emerges here with regard to the sustainability needs of this generation, which is particularly strong in purchasing and will determine consumer behavior in the coming years. A good reason to take these needs seriously.
But the pressure is not only coming from customers. Resources are becoming increasingly scarce, which is also reflected in economic aspects such as rising costs. In addition, political pressure is growing. Regulations such as the new Supply Chain Act are forcing large and medium-sized companies to make their supply chains more sustainable and to comply with human rights and environmental standards in their supply chains. It's no wonder that many e-commerce players have long had sustainability on their agenda.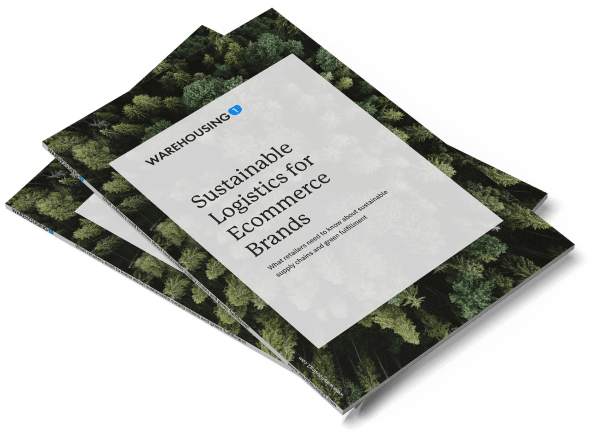 Sustainability is therefore a trend that is occupying e-commerce on many levels and will undoubtedly become increasingly relevant in the coming years. We see the topic of sustainability as one of the most important e-commerce trends in 2023 and the following years. E-commerce brands should therefore address the issue of sustainability as early as possible. The topic of sustainability also plays a major role for us at Warehousing1, because logistics remains an important adjusting screw on the path to sustainable online retail. That's why we're taking a close look at this topic and have summarized our findings in a free e-book. Find out everything retailers need to know about sustainable supply chains and green fulfillment in our free e-book.
E-Commerce Trend #2: Social-Commerce
According to the results of the ARD-ZDF online study, people aged 14 and over living in Germany spend an average of 234 minutes a day on the internet. A large part of this is spent using various social media platforms. Platforms such as Instagram and TikTok are no longer just used to communicate with friends and family. The topic of social commerce, i.e., the purchase of products directly via a social media platform, is becoming increasingly relevant, and it is even rumored that Tik-Tok could become Gen Z's new Google. In the U.S. alone, social commerce brought in $39.5 billion in revenue in 2021. Social commerce shortens the customer journey of potential customers from the first contact with a product via social media to the final purchase many times over. This makes social media a direct sales channel for brands and online stores and should accordingly be treated as such in the omnichannel strategy. The visually appealing content on various social media channels enables an engaging buying experience, which in the best case leads to an increased purchase completion rate. All in all, social commerce offers many advantages for brands and stores and is therefore one of the most exciting e-commerce trends for the year 2023. Anyone who would like to take a closer look at the topic of social commerce can find more information in our blog post on the subject.
E-Commerce Trend #3: Mobile Commerce
According to a study by Search Engine Land from 2019, almost 60% of all global Google searches took place via mobile devices. E-commerce is no exception, with mobile devices now accounting for a full 60.1% of merchandise sales. Whereas it used to be enough to develop efficient online stores for desktop devices, e-commerce retailers today face completely different challenges.
To remain competitive as an e-commerce shop, e-commerce retailers today must offer an all-round satisfying mobile shopping experience. In order for customers to browse the digital shelves in real time, a fast loading time must be guaranteed. As a second relevant point, online retailers should not lose sight of the design and build it "responsive" - means in such a way that it automatically adapts to every end device. As a last relevant point, online shop operators should prioritise the topic of mobile payment options in order to accelerate and simplify checkout processes. As already mentioned at the beginning: A large proportion of all shoppers access online shops via mobile devices. If a website is not properly optimised for this, you risk ruining the shopping experience and thus losing a relevant part of the potential clientele. Therefore, mobile commerce is definitely one of the most important factors of E-commerce trends for 2023.
E-Commerce Trend #4: Live-Shopping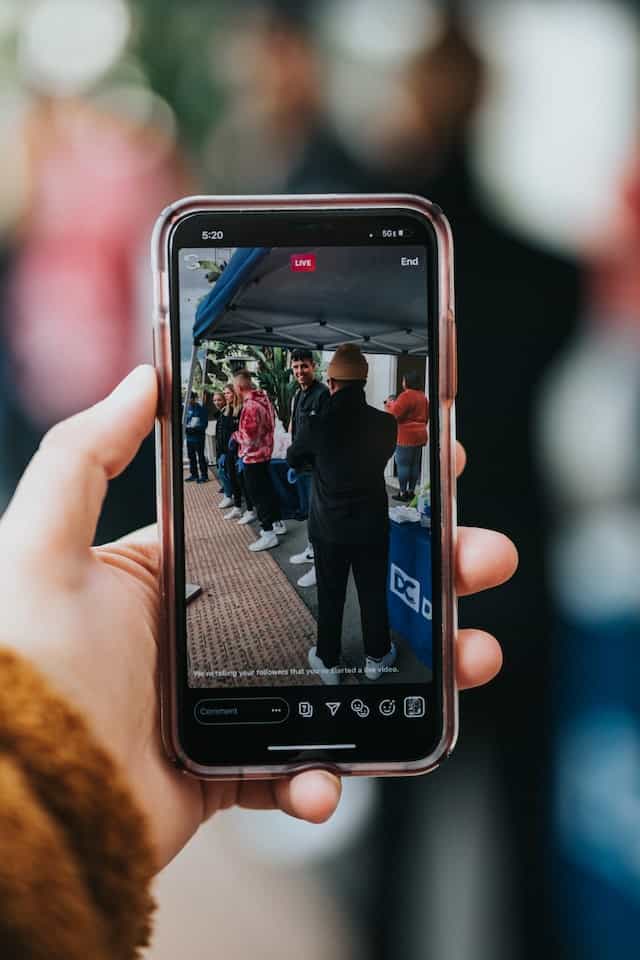 Live shopping is already a popular e-commerce trend in China, but the shopping format is also becoming increasingly relevant in Germany. Large brands such as Nike or the mail-order giant Otto are already experimenting with different possibilities of live shopping and testing how they can use the format profitably for themselves. The basic principle of live shopping is very simple and basically very similar to classic teleshopping. In live shopping formats, presenters introduce products that can then be bought. In contrast to traditional teleshopping, these formats nowadays tend to take place via the channel's own website, live streaming apps or social media. Another fundamental difference is the interaction between the presenters and the audience. The latter can influence the course of the livestream through likes, participation in polls, comments or questions in real time. Live shopping thus combines the advantages of offline shopping with the advantages of online shopping and basically simulates the situation of offline shopping at the point of sale. Customers can interact with sales assistants and ask questions about products and receive advice. Whether live shopping as an e-commerce trend will develop as strongly in Europe as it has in China remains to be seen. Nevertheless, live shopping remains one of the most interesting e-commerce trends for the coming year.
E-Commerce Trend #5: Direct-to-Consumer (D2C)
Online marketplaces such as Amazon, eBay and Etsy are booming - yet the share of direct-to-consumer brands in the e-commerce market continues to grow. Translated into German, "direct-to-consumer" means something like "direct to the consumer" and describes a type of distribution in which manufacturing brands sell their products directly to end consumers without intermediaries. This business model is not new. In the analog sales world in particular, this type of distribution is known as "direct sales". In essence, this means that companies sell their goods to consumers without intermediation by third parties. Direct sale creates a direct purchase between the manufacturer and the end customer. This process typically takes place via the manufacturer's own online store, but marketplaces such as Amazon can also count as direct-to-consumer sales platforms if manufacturers sell the goods directly themselves and dispense with intermediaries in the customer journey. In this way, manufacturing brands build a direct end-customer relationship, which can strengthen brand loyalty and provide important insights into consumer behavior. Companies thus get to know the wishes and needs of their target group better and can respond to them more effectively, for example through adapted advertising or promotions. In order to make proper use of these new growth opportunities, manufacturing companies must therefore break new ground. Many companies have already recognized that they can earn more money in the long term by building up their own brand. Therefore, D2C is an e-commerce trend that will keep online retailing busy for several years to come.
Conclusion
Developments in e-commerce are dynamic, varied and promising, and now you know which trends you can expect in 2023. But don't be fooled: an initial overview is not enough here. We advise you to always keep a close eye on current trends and developments in the industry. Subscribe to blogs, online magazines and thought leaders on social media - and read our blog and e-books regularly!
Get ready for 2023! Warehousing1 is happy to support you in organizing the logistics of your online store. Through our network of over 1,000 warehouse locations, we identify the perfect fulfillment & storage solution for you and your business. Feel free to get in contact with us - one of our experts will get back to you within 24 hours.