Like bricks-and-mortar retail, e-commerce is also subject to strong seasonal fluctuations and peaks. For example, the retail industry as a whole makes almost 20 percent of its annual sales in the months of November and December alone, i.e. around Black Friday and Christmas. Successfully managing these peak phases has a positive impact on annual business success - and poor planning can deprive retailers of massive sales. Fulfillment plays a key role in this for online retailers. In this article, you will learn how to prepare your logistics for the seasonal business in e-commerce and the associated peak phases.
Table of contents:
Tip number 1: Create an e-commerce season calendar
Most online retailers are familiar with the seasonal fluctuations that challenge logistics every year. These particularly intense phases are by no means a surprise. Like bricks-and-mortar retail, e-commerce runs in fixed cycles that online shop operators can prepare for. Online retailers should first and foremost be aware of these seasonal peaks, internalize them and take them into account in their annual planning. To get an overview of these peak phases, it is therefore worth preparing an "e-commerce season calendar". Store operators can use it to record the peak phases in their seasonal business. Those who want to go into particular detail can also record preparation phases and returns follow-up.
To help you easily keep track of seasonal business in e-commerce, we've summarized some of the most important holidays and seasonal peaks for you.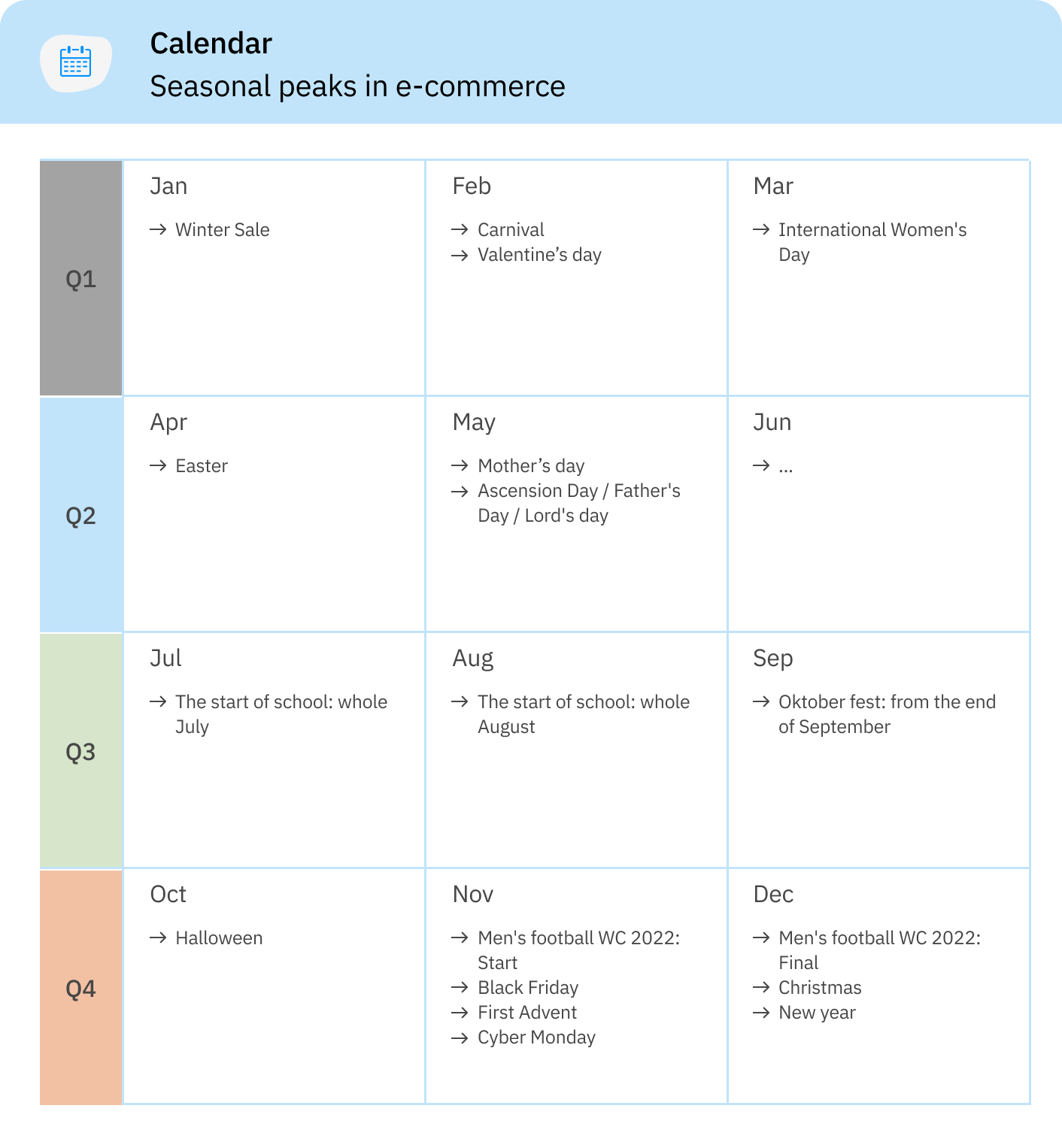 Tip number 2: Avoid capacity bottlenecks
At peak times in e-commerce, such as the Christmas season or Black Friday, order volumes can easily triple. This quickly pushes regular fulfillment and warehouse capacities to their limits. Particularly in the case of internal logistics processing, these are often insufficient to handle seasonal peaks, so that online retailers have to resort to external logistics providers. But it's not just purely physical logistics capacities that present online retailers with major challenges: shipping processing is also undergoing a stress test. The keyword here is action logistics. This refers to logistics management during time-limited promotions. In the context of promotion logistics, online retailers plan all logistics processes for the period of the respective promotion in order to implement it as efficiently as possible. In many cases, it is advisable to use external logistics service providers. External logistics handling means that e-commerce store operators do not have to maintain their own capacities during peaks, which is why they often get off more cheaply in the overall package - without sacrificing service levels. At the same time, storage space and other necessary capacities can be expanded as required, enabling online retailers to respond more flexibly to peaks.
Tip number 3: Avoid staff bottlenecks
Not only bottlenecks in terms of storage capacity can be problematic for online retailers - staff shortages can also cause headaches. These occur more frequently during the winter season, especially due to illness, and since the start of the Covid 19 pandemic, another unpredictable factor has been added. Especially during peak periods, this can lead to long waiting times for customers, which has a negative impact on customer satisfaction. Here, too, external service providers can provide a remedy. For example, instead of hiring new employees seasonally via temporary employment agencies and then having to go through the time-consuming process of training them, external service providers can take care of the corresponding employee planning. This saves e-commerce retailers time and money.
Tip number 4: Ensure fast shipping
The shipping of products is also closely related to personnel bottlenecks. After the quality of the goods themselves, few things are as important to customers as fast delivery of their orders. This research study shows that 73.6% of shoppers believe that shipping plays a crucial role in their overall shopping experience. Amazon, as the largest global player in e-commerce, has established the standard of 24-48 hour delivery among its customers, and shoppers have become accustomed to this. As a result, smaller online retailers have to follow suit, which often presents them with major logistical challenges. Especially during seasonal peaks, there are always longer waiting times for shipping. This leads to frustration for many customers and, in the worst case, can lead to them ordering from the competition next time. To ensure that goods are shipped quickly and smoothly, online retailers should therefore be well prepared for these peak periods. On the one hand, this means having a sufficiently large and qualified cadre of appropriate personnel. On the other hand, retailers should contact their shipping companies in good time for these peaks in order to book sufficient transport volumes with them. Here, too, external logistics service providers can help with flexible solutions.
Tip number 5: Consider returns
A peak in sales is usually followed by a peak in returns. Online shoppers are particularly keen to make use of the option to return online orders free of charge. This is not surprising, as many consumers have become more accustomed to online shopping, especially since the beginning of the pandemic. Goods are ordered home, tried on or tried out, and what is not to their liking is simply and conveniently returned. According to Statista, Germany had the largest proportion of online shoppers in Europe who used returns in 2020, at 56 percent. This figure is significant and proves to online retailers that they should prepare for a correspondingly high number of returns after a peak period or sales campaign. It is important to process returns quickly so that goods can be put back on sale as quickly as possible.
Conclusion
In online retail, there are numerous seasonal factors that you should consider when planning your logistics for the year. Of course, these can vary depending on your strategy, industry and product type. However, our tips should give you and your business the best possible start when preparing for seasonal peaks. All in all, it is a good idea to put your own business model and internal logistics processes to the test again and again in order to be best prepared for seasonal peaks.

The next peak season is coming up and you are currently struggling with challenges in logistics? Then Warehousing1 is just the right contact. Our logistics experts will be happy to advise you on optimizing your fulfillment and returns processes. Make an appointment today for an individual one-on-one meeting. Send us an inquiry - one of our customer consultants will get back to you within 24 hours.