"Item not available" - after placing an order, there are hardly three words that destroy your customers' trust in your online store faster. Stock-outs and incorrect inventory levels are a constant source of disappointment for online shoppers. The demands of your customers are high. If you fail to meet them, it can cause irreparable damage to your brand. Especially now that online retail growth has normalized and inflation is causing purchasing power to drop, it's especially important for brands to provide the perfect shopping experience. Flawless inventory management is essential in this regard. An important tool for keeping your inventory under control at all times are so-called SaaS solutions, which automate and simplify inventory management. But what are SaaS solutions? How can they improve inventory management? You can find out all about this in this blog post. We hope you enjoy reading it!
Table of Contents:
Inventory management: The biggest challenges
Good inventory management is essential for any online retailer. Put simply, it's about ensuring that the inventory in the warehouse or online store is accurately mapped in the system. This is essential for any retailer who wants to keep their customers happy in the long run and make smart decisions about their own procurement. While the basics of inventory management sound simple, challenges abound. It's not without reason that everyone in retail is familiar with the big annual physical inventory, which checks to make sure that all inventory is recorded correctly. But how can inventory errors occur?

Often the cause of inventory errors lies in the system, or rather, in how different systems communicate. The most important systems for e-commerce fulfillment are the store operator's store system and the logistics provider's warehouse management system (WMS). Communication between the two systems must be flawless in order to keep information about one's inventory truly accurate. This is because there is a lot of potential for errors between incoming deliveries to the warehouse, outgoing orders and returned orders.
How SaaS solutions support your inventory management
The term SaaS stands for "Software as a Service" and describes a cloud-based software solution with which companies can optimize various processes. Here, the software developer usually provides automatic software updates and customers pay according to the pay-as-you-go principle. Stakeholders in e-commerce use SaaS products for a variety of different applications. These include, for example, inventory management, order management, analysis of sales data, inventory control and tracking, and inventory optimization.
SaaS solutions can help companies optimize their inventory management processes and inventory control. Companies can track their inventory, manage their supply chains, and optimize warehouse management. In the process, most SaaS solutions for e-commerce brands also offer data analytics tools that help companies better prepare their data and gain insights into their processes and inventory. In addition to inventory management, a SaaS solution can also help businesses with order management. This allows companies to easily manage their orders and track the status of their orders. Data organization and data integration are other key benefits of many SaaS solutions. Through this, players can easily organize their data and integrate it with other systems. This saves time and money and makes it easier to access and analyze data. Another important benefit is the data timeliness of SaaS solutions. Since the data is updated and supplemented live, companies can be sure that their data sets are always up-to-date. This allows them to make important strategic decisions based on data, which can help them gain a competitive advantage.
The SaaS solution from WH1: Warehousing1+
Warehousing1+ (WH1+) is a proprietary SaaS solution designed to facilitate inventory management and overall fulfillment processes for online stores. Our software thereby simplifies the entire communication and data exchange between e-commerce stores and the respective WMS. Warehousing1+ guarantees the correct exchange of fulfillment data between the two systems and enables centralized processing of all data. Warehousing1's software uses two approaches to keep inventory accurate. Each fulfillment event (inbounds, order, fulfillment and return) is accurately recorded. Based on these events, the software calculates how much merchandise is available. In this, the system distinguishes between actual and saleable inventory. These two figures can differ from each other, for example, due to reservations in the shopping cart. In this way, we prevent more being sold than is available in the warehouse - unless the online retailer explicitly requests it. Because so-called "overselling" can be a sensible approach in some cases, for example with pre-orders. In addition to the continuous automatic inventory calculation and reconciliation with the inventory in the online store, the logistics partner sends manually generated stock correction values, every 1 - 2 days. In this way, discrepancies between the available quantity in the online store and the actual available stock quantity can be avoided. With the help of WH1+, e-commerce stores can thus optimize their order processing and inventory management and better serve their clientele.
With WH1+, online store operators can also minimize their support effort and manual communication with customers and the logistics partner. Via the dashboard, orders can be processed and canceled even after the order has been received until it is picked in the warehouse, without the need for additional communication with the store or the end customer. This minimizes both support efforts and unnecessary returns many times over. However, should a return be necessary, the automatic returns management in the end customer portal offers end customers an efficient and fast way to manage their returns themselves and send them back to the logistics partner.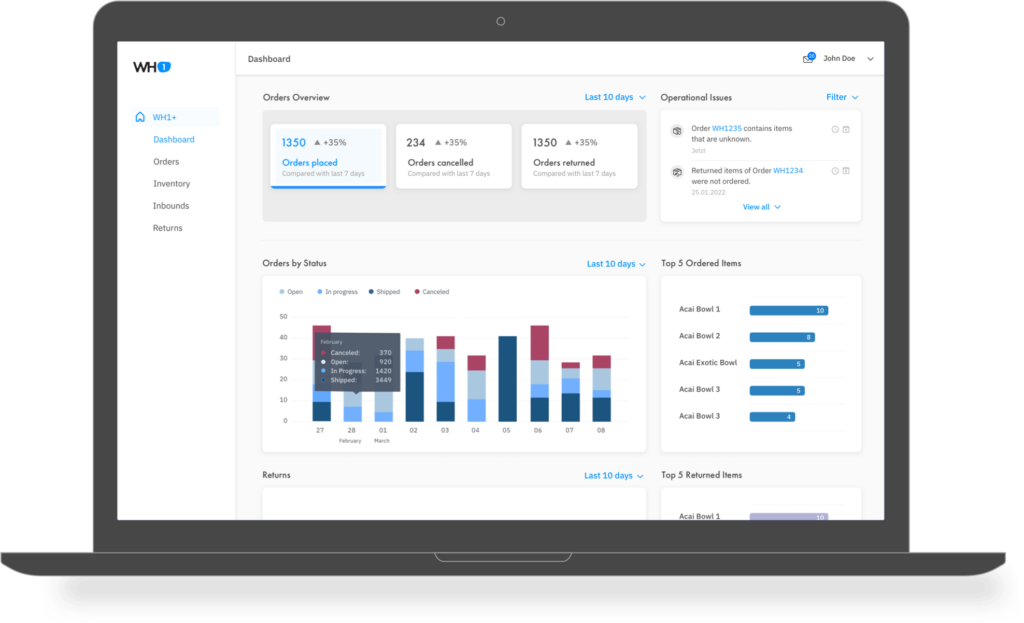 The WH1+ customer dashboard provides customers with an operational overview of what is currently happening with their goods. It contains an overview of all orders (placed, canceled, returned) and the status of the orders (open, in process, shipped, delivered). Thanks to consolidated data between the online store and the logistics partner, online store operators receive maximum data transparency and a uniform overview of everything that is currently happening. Warehousing1+ customers can view the status of all shipments at any time in order to keep a permanent eye on the flow of goods and inventory and to be able to respond quickly to support cases if necessary.
Conclusion
SaaS solutions are a great way for companies to get a handle on their fulfillment and inventory. That's because software solutions like WH1+ can help companies manage their inventory, control their supply chain, and optimize their inventory management. The result is clean data, cost savings and improved scalability. Overall, SaaS solutions like Warehousing1+ can do a tremendous amount for companies to streamline their operations and save money in the process. If you are interested in a product demonstration of Warehousing1+ or a no-obligation consultation, please feel free to contact us.