Centralised or decentralised warehouse, that is the question here. And it poses challenges for many e-commerce traders in terms of warehouse organisation. Both types of warehouse have advantages and disadvantages.  Moreover, the choice of warehouse organisation for online shop operators can have a fundamental impact on long-term business success. Accordingly, merchants should thoroughly consider the decision on which type of warehouse to commit to. To support you in this decision, in the following article we will first compare the differences between the two types of warehouse, then look at the respective advantages and disadvantages and finally draw a résumé.
Table of contents:
What is the difference between centralized and decentralized warehouses?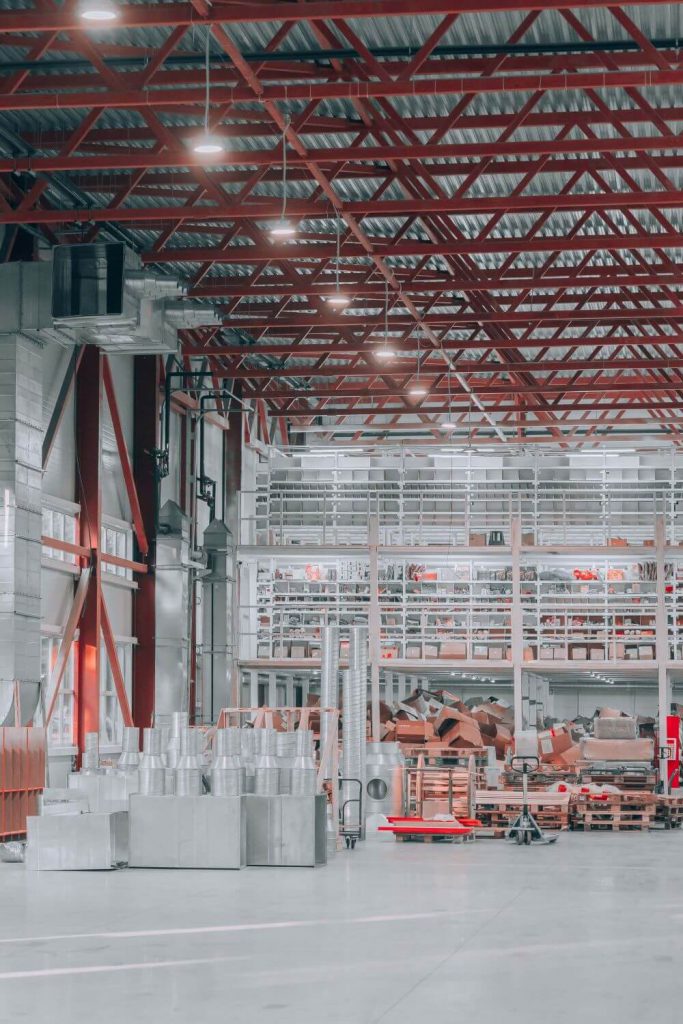 A centralised warehouse organisation means that a retailer operates a central warehouse from which all goods are shipped to customers. Depending on the location, a location in the middle of Germany, for example, is suitable in order to be able to reach all customers equally quickly. Centralised warehouses, on the other hand, are located at several sites. For example, a larger warehouse in the centre of Germany and two additional warehouses, one in the north and one in the south of the federal region or in another important European market. However, there are many different variants of how a warehouse network can be structured. A combination of both variants is also possible. In this case there is a central warehouse, for example in the middle of Germany, which then distributes the goods over several small warehouse locations in different regions. A good example is the distribution of production & goods warehouses. Products are manufactured and then often stored at the production site in the first step. From there, the goods are then forwarded to decentrally located warehouses. 
Advantages & disadvantages of central warehouses
One of the advantages of central warehouses is that companies only need to purchase, pay for and operate one warehouse. All investments for technical equipment, warehouse systems and a functioning IT infrastructure are made only once. At the same time, the controlling effort for the warehouse, the processes taking place there and the personnel is significantly lower. In general, the warehouse can be organised better, more efficiently and more cost-effectively. From a central warehouse, not only the transfer to the shipping service provider for delivery to the end customers, but also from branches for the stationary retail trade takes place. As already mentioned in the previous section, a central warehouse should - as the name already suggests - be placed in as central a location as possible, close to the customer, in order to minimise delivery routes and thus delivery times. Nevertheless, delivery times can vary greatly depending on the warehouse location and the location of the customers. E-commerce customers in particular expect fast delivery times, preferably within 24 hours. Brands should definitely take this into account when deciding on a central warehouse. 
Advantages & disadvantages of decentralized warehouses
The Advantages & disadvantages of decentralised warehouses are basically opposite to those of the central warehouse. With decentralised warehouses, the goods can be placed as close as possible to the customers, which can lead to faster deliveries and more flexibility in the delivery processes. This can be particularly advantageous for e-commerce retailers with customers who are particularly concerned about delivery times. At the same time, the organisation of a network of decentralised warehouse locations poses enormous logistical challenges for those responsible. Communication between the central warehouse and the individual locations must run smoothly and should, at best, be fully automated when it comes to inventory. In this way, e-commerce merchants can avoid bottlenecks in inventory. After all, one of the biggest dangers of decentralised warehouses is the misallocation of goods to warehouse locations that are not close to the customer. In addition, the investment and operating costs of multiple locations with more employees are higher and there is more effort in terms of warehouse management and supply chain management.
Conclusion: Which storage form is best suited for e-commerce companies?
For e-commerce retailers, a decentralised warehouse network can bring many advantages. Due to the different locations in strategically important regions, the goods can be brought to the end consumers faster, which improves customer satisfaction and can lead to better customer loyalty. At the same time, e-commerce retailers have to reckon with higher initial investments and operating costs. However, especially for e-commerce shops with a high volume of shipments, a decentralised warehouse network is an attractive option. In addition, e-commerce merchants can outsource their fulfilment via external service providers from the warehousing1 network to further optimise delivery times and be better prepared for seasonal fluctuations. In addition, you save high investment costs, which are typically incurred for setting up your own decentralised warehouse structure. 
Central warehouses, on the other hand, are particularly suitable for retailers who primarily supply their products to customers in a specific region. This is often the case for traders in the B2B sector. A classic example of this are suppliers of car parts. Here, retailers benefit from lower initial investments and operating costs, but must also reckon with longer delivery times outside their main region.
Ultimately, however, you have to make the choice for a type of warehouse organisation yourself. Which variant traders choose ultimately depends on many individual operational factors.
However, Warehousing1 is happy to support you in organising the logistics of your online shop. In a free initial consultation, we can discuss exactly what your requirements are and how they can be solved. Through our network of over 1,000 warehouse locations, we identify the perfect fulfilment & storage solution for you and your business. By selecting the optimal warehouse locations and processes, you can reduce your fulfilment costs by up to 50%. Make an appointment for a personalised one-on-one meeting today. Send us an enquiry - one of our customer advisors will get back to you within 24 hours.